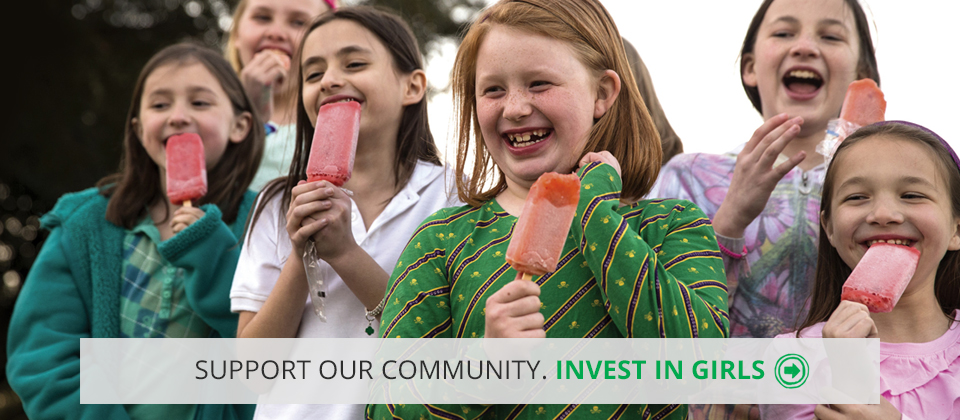 Donate
It all began over 100 years ago with one woman, Juliette Gordon "Daisy" Low, who believed in the power of every girl. Today, we continue to bring her vision to life by working tirelessly to build girls of courage, confidence, and character who make the world a better place, for all of us. At Girl Scouts, we empower girls (all girls!) to discover their unique passions, talents and strengths—that make every girl so special.
Your gift to Girl Scouts of the Missouri Heartland is an investment in the lives of girls, empowering them to be resilient leaders who make the world a better place. Give girls the tools they need to thrive by making a gift of your choice below.

Corporate Giving
Corporate Giving is a key component in ensuring the programs of Girl Scouts of the Missouri Heartland remain affordable, noteworthy, and accessible. We welcome gifts from corporations, corporate foundations, employee matching gift programs and small businesses.

Family Giving
Family Giving is an opportunity for our Girl Scout Families to make a financial investment to support local Girl Scouts. Families know first-hand the value of Girl Scouts and the leadership program that helps a daughter become her best possible self. 

The Girl Scout Network
We invite you to join The Girl Scout Network and help us build a culture of philanthropy and engagement through your volunteer service and financial support.

In Kind Donations
In Kind Donations are welcome at Girl Scouts of the Missouri Heartland. We always have a list of needed items for providing the best experience possible for our girls. 

Planned Giving
Planned Giving makes all the difference in our success both now and into the future. As you consider the legacy you wish to leave, we hope that you will include Girl Scouts in your gift plan.

Tributes and Memorials
A Tribute or Memorial gift is a lasting way to honor the people who have touched your life. Consider Girl Scouts today.

United Way
We are a proud United Way member and partner with various United Way agencies in order to strengthen our communities.
Every gift matters. Can we count on yours today?