Rule number one when it comes to emergencies? Stay calm. But with the new coronavirus (COVID-19) spreading rapidly around the globe—and everyone from news anchors to influencers on social media talking about worst case scenarios—stress and worry can seem downright contagious.

Continue >

We offer a wide range of opportunities, from one day to week-long sessions at summer camp. All girls in grades K-12 are welcome and no Girl Scout experience necessary. Check out our 2020 summer camp opportunities, in our publication dedicated to the outdoors—Explore!
Continue >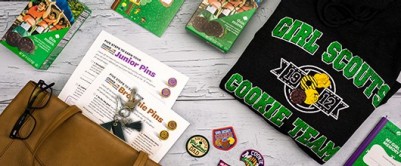 The NEW Cookie Entrepreneur Family pin collection is the best way to get the most out of Girl Scout Cookie season. Earning a pin with your girl not only builds in high-quality time together but also gives your whole family a taste of the action—sweet! Start your collection today, and get ready to rock your Girl Scout pride all season long.
Continue >