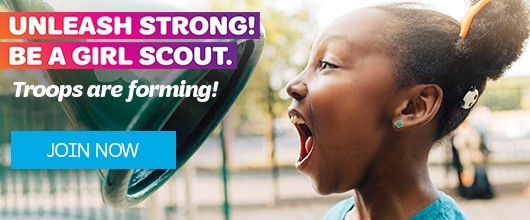 Start Your Journey with Girl Scouts!
At Girl Scouts we combine life skills, STEM, the outdoors, and entrepreneurship to deliver crucial, life-changing, girl-led programming. 
Our proven approach gives girls the opportunities to unleash their inner G.I.R.L. (Go-getter, Innovator, Risk-taker, Leader)™, prepare for a lifetime of leadership, and change the world. Whoa!
So what will you do? Cookies, badges, campfires, and friendship bracelets? You bet! But we're so much more than that. At Girl Scouts, you'll always get to think big, try new things, and be a role model in your community. 
Here, the possibilities are absolutely endless. Because once your inner leader takes center stage, anything—and we mean anything—is possible.
Need to know more to help you decide what's right for you? Join us to learn more and sign up for Girl Scouts at one of the sign ups below! Or, call us at 877-312-4764 to speak to a recruitment specialist.

Benton County

Warsaw, MO
Warsaw North Elementary
January 17  |  5:30-6:30 p.m.

Camden County

Camdenton, MO
Camdenton Public Library
February 7  |  5:30-6:30 p.m.


Cherokee County

Baxter Springs, KS
Central Elementary
December 11  |  4:00-5:00 p.m.