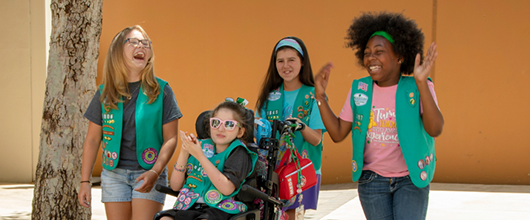 Are you ready to lead like a Girl Scout?
At Girl Scouts we combine life skills, STEM, the outdoors, and entrepreneurship with civic engagement to deliver crucial, life-changing, girl-led programming.
Our program gives girls the opportunities to unleash their inner G.I.R.L. (Go-getter, Innovator, Risk-taker, Leader), prepare for a lifetime of leadership, and change the world. Whoa!
Here, the possibilities are absolutely endless. Because once your inner leader takes center stage, anything—and we mean anything—is possible.
 


Need to know more to help you decide what's right for you? Check out all the different ways to have fun at Girl Scouts. Or, call us at 877-312-4764 to speak to a recruitment specialist!